Brought together in late 2019 by a shared passion for all things brows, Poppy and Danielle have been working together and dreaming big dreams ever since. ​
The treatment that caused the girls to meet, Brow Lamination, is the very thing that led them to create Saint&Serenity. The evolution of Brow Lamination has been all consuming for the two, with the pair trialling products and techniques together and swapping notes on their experiences before, during and after treatment. They noticed that as lamination products and techniques improved, aftercare just did not catch up. Technicians were left to bottle castor oil, purchased in bulk online and give this to their clients – who's own experiences with the product left a lot to be desired. 
Poppy & Danielle's mission is to e l e v a t e and add luxury to your everyday.
Meet the team
Female Founded, Female Led.
Poppy & Danielle founded Saint & Serenity in late 2020; inspired by their love of luxury, high quality brow products and a need for better brow care. 
Poppy Ellis
Co-Founder
Poppy is a teen mum, dog mum and wife originally from Manchester and now living in the sticks in The Lake District. 
In addition to Saint&Serenity, Poppy runs a salon and academy in Manchester and works within it, offering Brow and Lash services.
Poppy is the 'Saint' in Saint&Serenity - always working to ensure that the customer is happy whether that be via social media, new product development or when working with our partners - this is Poppy's role within S&S.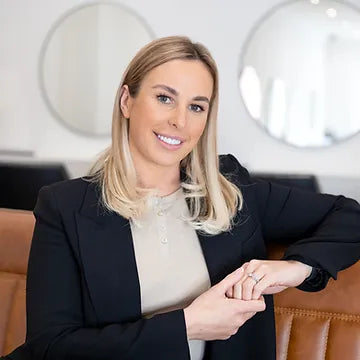 Danielle Stott
Co-Founder
Danielle is a mum of two little ones, two pooches and wife to Aaron.
In addition to Saint&Serenity, Danielle owns a salon and academy in Manchester as well as working in partnership with salons overseas.
Danielle is the 'Serenity' in Saint&Serenity - always keeping calm under pressure and working in the logistical side of the business whether that's stock management, packaging and product development - Danielle keeps the S&S wheels turning!
Mia Flanagan
Orders team leader
Mia is our superstar orders team leader and is responsible for getting your orders to you!
 Mia often gets roped into being a model for content and supports with ideas for new products, being a brow and lash technician herself. 
Mia is dog -mum to two cute doggies, Teddy and Bear and they are her actual children. Mia can be found in crops and cargos, usually running around S&S HQ under a pile of order print outs and shiny gold envelopes!
Work with us
We are always looking for new and exciting talent to collaborate with. If you'd like to work with us, contact us at: